Fairbanks Dental Associates offers Dental Implants procedures in Temple, TX. To learn more or to schedule an appointment, call
254-778-4402
.
What are Dental Implants?
Dental implants are an amazing procedure that allows us to replace missing or extracted teeth. Although they are a relatively new treatment option, dental implants have shown great results and have quickly become one of the most successful and sought-after dental treatments available. Once a dental implant is restored it feels and functions just like your natural tooth. Dental implants are considered the gold standard as they surpass other options on the market in both appearance and functionality. It doesn't matter whether you are missing only one tooth, a few teeth, or all of your teeth - dental implants can be the perfect solution.
During the implant surgery a small, titanium post is placed in the bone that acts as an artificial tooth root. After a short healing time, the post integrates into the bone and can be used to attach one or more teeth. Once the teeth are attached, you can now chew, talk and smile as if they were natural teeth.
Compared to other replacements, dental implants are designed to be a permanent solution. The implant itself, in most cases, will last a lifetime. And, the dental crown if taken proper care of generally lasts about 10 to 15 years before it will need to be replaced.
Anyone who has a dental implant will be quick to tell you that it was a smart decision with incredible benefits.
Benefits of Dental Implants
When working with such a fantastic dental solution, there are going to be many benefits. In this case, dental implants:
Are simple to care for
Will not be impacted by decay
Restore bite force and functionality
Reduce the chance of bone loss
Support the surrounding teeth
Enhance the smile
Improve overall appearance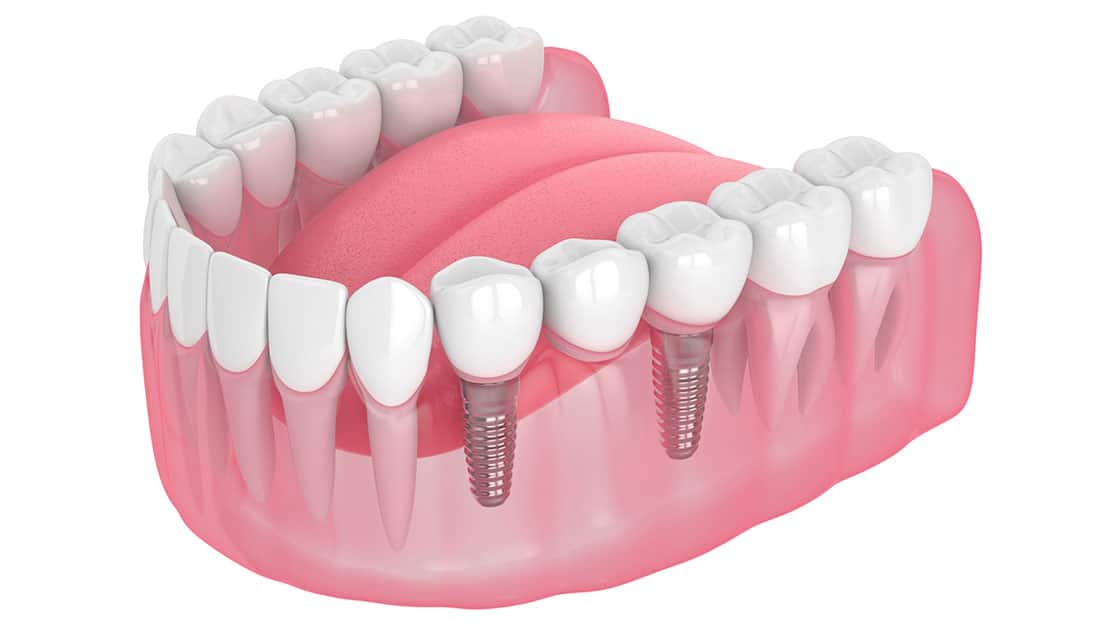 Are You a Good Candidate for Dental Implants?
One of the best things about dental implants is that they are a successful option for almost everybody. When it comes to implant placement, our main focus in determining if you are a good candidate is to ensure that you have enough bone to have a long-lasting and healthy implant. At Fairbanks Dental Associates we use the most up-to-date 3D cone beam scans to plan every case. With this technology, we are able to place implants even in difficult situations where little bone is present. These scans also help Dr. Fairbanks precisely plan the surgery by verifying and avoiding important things such as nerves, blood vessels, and sinuses. Knowing where these structures are helping to ensure that the surgeries have little to no complications.
It is important to note that some medical conditions can affect implants and could be a factor in determining if you are eligible for implant placement. Surgical techniques and guidelines are frequently being updated and evolving to produce better results even in the most difficult cases.
Patients who have been told that they are ineligible for dental implants by other professionals either due to a medical condition or bone loss have been able to receive dental implants by Dr. Fairbanks with incredible success and life-changing results!
Even if you have been told in the past that you are not a good candidate for dental implants we would love the opportunity to give you a consultation to see if there is a way to treat your individual case.
Why Choose Fairbanks Dental Associates?

Dental implants are an amazing life-changing way to restore missing teeth if you find the right dentist for both the surgery and restoration. With the precision and expertise that you will receive from Dr. Fairbanks, you can rest easy knowing that your dental implants are safe and secure for many years to come. Keep in mind that the entire process for dental implants can be time-consuming. So, we work to get you through it as quickly as possible without jeopardizing the treatment.
If you are wondering whether you are a candidate, we are here for you.
FAQs
To learn more or schedule an appointment, call
254-778-4402
.